What is a "CUT-DOWN" Duck Call?
A CUT-DOWN duck call is a duck call that has been modified & the tone board has been cut or reshaped form its original design.
Why is a CUT-DOWN duck call so sought after?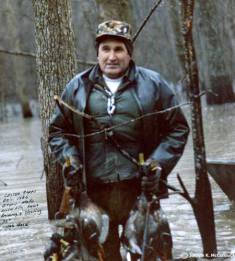 Some people seem to think that ducks respond much better to a CUT-DOWN type duck call. I started using a CUT-DOWN D2 Olt New Style duck call in 1982. I hunted with Lester Capps, he was using a cut down Keyhole Olt. The call sounded like a hen mallard & the ducks came to his call from every direction.
Steve Schultz and I went hunting one morning when we were very young. We got to our spot early, set out the decoys and when daylight broke there were a lot of ducks flying. We heard this unique sounding duck call in the distance, it sounded like many ducks and sounded real, followed by continuous volleys of gunfire and intense cripple shooting.
We did not kill a duck, we could not compete against the guys we were hearing. I was using a Hambone wooden duck call & Steve was using a wooden Richentone duck call. We considered ourselves good callers, but found out we were no match for our competitors.
Steve hunted with the group of hunters the next morning, he called me and told me what we were hearing was one duck call and the guy using it was Lester Capps, Lester worked on the same job as Steve & I at the White Bluff Power Plant in Redfield Arkansas. Steve said he was using a backwards keyhole Olt. Steve said he was working big groups of ducks, getting them through the trees and on the water. He said Lester had 18 people and they limited out by 10:00 am.
So, a friend of mine, Bruce Bond who was a gunsmith at Jim's trading post on Pine Bluff Arkansas cut down an Olt call, brought it to me and I used it. Bruce Bond, Tim Williamson & I went to the North Blue Line in Bayou Meto and hunted. I used the call and it was instant success. I continued to use the call, practice and get more accustomed to using the CUT-DOWN style call, it took quite a bit of air but the extra effort was certainly worth it.
I continued to use the Olt D2 New Style duck call Bruce cut. Bruce died from ALS a couple years later. Then I cut an OS D2 Keyhole model duck call and starting using that call. The sound was more realistic, the chatter was sharp, the volume was much louder than a round hole new style D2. I began guiding duck hunters in the public timber of Arkansas in 1981.
I used my CUT-DOWN style duck call every day and became more accustomed to using it. The call was very effective and gave me an edge over other hunters around me. My customers witnessed the results of the call and they wanted to buy one. So I began cutting calls for my customers, then my friends & then people began showing up at my camp to buy a CUT-DOWN Olt duck call. I called Jim Olt, prepared a written agreement to buy Olt calls from him and modify them. Jim agreed and then I began modifying & cutting down Olt duck calls. I began modifying other calls, trying different cuts and making more precise modifications to the calls.
I developed my own call, the KM CUSTOM CUT keyhole duck call with a threaded barrel & threaded insert. The call is turned on a lathe, threaded & the insert is profiled with a keyhole insert. I modify the call further by reaming the mouthpiece, sloping the inner portion of the barrel, & inverting the keyway. I cut the tone board with 4 types of files, 3 grit sizes of sandpaper, this is done by hand. The result is a very smooth, crisp user-friendly CUT-DOWN keyhole duck call that is very loud. The call is a true fit, 0 tolerances & the insert is secure.
The CUT-DOWN has evolved dramatically and has become the call to hunt with. The CUT-DOWN is the most effective duck call on the market, from a public land duck hunter's standpoint, the CUT-DOWN is the only call to use because it has a significant proven track record of bringing mallards to the decoys consistently. I?ve hunted with a CUT-DOWN most of my life and don?t duck hunt with any other type call, I have to be confident with my call, I can honestly say I?ve never used another call more effective than a CUT-DOWN.
Kirk McCullough